Patient Resources
Here to Guide Your Facial Plastic Surgery Journey
Here, you can find resources to help you familiarize yourself with the plastic surgery process, learn about our La Jolla practice, and gain insight into the outcomes achieved by previous patients — all from the comfort of your home. When you're ready to schedule a consultation, our experienced team is available to listen to your goals and answer your every question and concern. Above all else, Dr. Scott Miller is committed to maximizing patient safety and facilitating your unmatched satisfaction before, during, and after treatment. 
Facial Plastic Surgery Process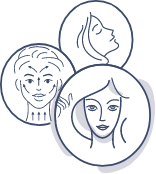 The journey to achieving your aesthetic goals may seem intimidating at first, but the process can be easy and seamless with a board-certified plastic surgeon to guide you through your treatment plan. From assessing the best options to resolve your concerns to making your desired look a reality, we outline every stage of the process so you have a thorough understanding of what to expect.